Which of the following describes your team's current situation?
Your IT support workload (for IT infrastructure, applications, etc.) is increasing.
New products or services are placing more demand on your technical team.
That team is sometimes or always arriving to work with fires to put out from the night before.
That team is under pressure to work after hours.
That team is having their valuable time stolen by break/fix support activities.
That team is close to—or already—showing cracks due to stress and burnout.
Any one of these situations can prompt an organization to seek NOC service providers to augment their existing support team to cover after-hours support without needing to hire into those hard-to-fill second or third-shift roles themselves.
But with 20+ years of experience hearing from teams looking for augment-only service, it's important to explain why off-hours-only NOC support is not the convenient gap-filler it's assumed to be. Managing support across two teams is cumbersome and often comes with hidden costs and problems, like:
Reduced support capability and lower quality service overall
An inability to use the most up-to-date technology
Reduced operational efficiency
Counterintuitively, outsourcing Tier 1, 24x7 support to the right NOC service provider has several advantages over off-hours support that often compels teams to outsource most or all of their support needs (especially Tier 1) upon further review. Here are some advantageous outcomes:
The ability to use the NOC provider's operations platform, which may include modern advancements like automation you don't have in place
The ability to take advantage of the provider's internal operational efficiencies
Freeing up advanced staff to focus on IT project work more exclusively, potentially resulting in less burnout and turnover
Improved ability to concentrate on managing IT services overall
Ability to focus on recruiting and retaining advanced staff required to help improve the overall business
Resource management via accurate metrics and KPIs
This guide digs into this question—breaking down the common challenges with bifurcated on/off-hours support and the benefits of outsourcing more or all of that function so you can better determine the optimal solution for your situation.
Let's first look at the drawbacks of splitting on- and off-hours support across an internal and outsourced external team.
The Drawbacks of Off-Hours-Only Outsourced NOC Support
1. Reduced support capability and lower overall quality
A major challenge with after-hours support is that customer experience may suffer due to service interruptions or inconsistencies inherent to having two separate teams perform the same set of tasks.
There are a number of issues here—which we're happy to discuss in-depth and in context on a brief NOC consult. But the key takeaway is that there are simply too many differences in how teams set themselves up and operate to reasonably expect the consistency needed of them to deliver great service.
As soon as you hand over part of your support duties to your partner, they'll almost certainly be using a different set of tools with different training and different processes. This complicates the transfer of information across shifts between the two companies and creates two sources of operations data being managed by two different teams.
This, unsurprisingly, tends to lower the quality of service and often burdens management with constantly working on issues that take time to resolve between the two companies.
2. Missed opportunities to bring the most up-to-date technology—and operational efficiency—to the entire support function
The other big drawback of bifurcated NOC support stems from a common blindspot around outsourcing the NOC function in general: not seeing all the value-adds of plugging into a mature service provider's operations platform.
Teams who initially engage us for after-hours-only NOC support are often surprised to learn how much additional value a mature, outsourced NOC team can inject into their business at all hours of the day—and how that value translates into benefits for the business and its customers.
📄 Read our Definitive Guide to Outsourced NOC Support Services for a comprehensive explanation of these value-adds. Check out our other guide—Outsourced NOC vs. In-House NOC: 3 Factors to Consider—for a summary of the key differences between internal and mature external support.
In short, ignoring the opportunity for end-users or customers to benefit from the latest tools, sophisticated runbooks, and a mature operational framework that an expert service provider brings often means paying more to run an internal NOC team with far fewer resources and capabilities compared to a more cost-effective, efficient and, better-equipped outsourced NOC provider.
One benefit of working with the right outsourced NOC service provider is that you have access to an advanced and hopefully highly integrable toolset that can deliver far more insight and visibility than the typical internal NOC.
That advantage gets diminished or disappears completely when the service provider is forced to use another team's smaller toolset, or integrate with a loss of capability.
Another benefit of outsourcing to a mature NOC partner for 24x7 Tier 1 support is that you can take advantage of a refined operational framework—one that unlocks big efficiencies and performance improvements by the way support activities are categorized and handled. Again, when the provider has to integrate with another toolset or exclusively use different tools altogether, it exacts a massive opportunity cost.
The Advantages of Outsourcing Your NOC Support—24x7
The most obvious objection to completely outsourcing your NOC support around the clock is that it may seem unnecessary or needlessly expensive.
Here are a few of the ways that argument usually falls down:
Service is more consistent
Again, rather than two companies with different processes, training, and background knowledge switching off on the same duties in the same environment, Tier 1, 24x7 outsourced support streamlines the operation by having incidents managed (and customers/end-users engaged) by one operation rather than two separate ones. We've seen this result in greater consistency and quality of customer experience essentially every time.
Access to cutting-edge technology and established operational workflows
If it doesn't make business sense to invest heavily in your own support tools and team, outsourcing the NOC function enables you to plug into a support operation whose sole focus is NOC support. You can bring their advanced tools and operation framework to benefit your business in ways that internal NOCs simply can't most of the time.
Advancements in automation and machine learning (AIOps) can pay operational dividends, yielding increased efficiency, improved communication, and better reporting. It simply doesn't make sense for most internal support teams to invest in such systems.
Increased operational efficiency
Having an outsourced provider take care of all of the level 1 break/fix work frees up your advanced technical staff for more of the forward-looking projects they were likely hired (and want) to do. Their days can progress uninterrupted by emergencies doing the work they are best qualified to do (IT projects) rather than wasting their time on tasks that could be done by frontline NOC engineers.
Plus, with an outsourcing model that affords an economy of scale, you can easily and predictably increase support to whatever level you need as your business grows, allocating work to the appropriate tier levels and providing a superior speed of service.
Retain staff and save on the cost of new employees
When an outsourced provider takes over the routine break/fix tasks, your staff are able to focus on the projects they enjoy and efficiently complete those projects without constant interference. This can help reduce stress and increases job satisfaction, helping to avoid burnout and improve retention, which has become incredibly challenging in today's labor market.
The benefits of reduced turnover ripple through the business as less time and money has to be spent finding, hiring, onboarding, training, and developing new talent.
In today's climate, letting an outsourced NOC provider shoulder the burden of hiring and retaining talent is a strong enough motivator for many companies all on its own.
Value-added resources
In addition to the outsourced NOC support you'd be paying for as a predictable operating expense rather than a series of OPEX and CAPEX cost centers, the right provider brings a variety of niche NOC expertise to deliver value-adds like:
Quality Control
Continual Service Improvement
24x7 Service Desk
Incident and problem management;
Capacity management
Change management
System Dashboards and Reporting
System/Device Backups
Scheduled Maintenance Support
Final Thoughts and Next Steps
For many companies, off-hours support seems like the logical solution, but under closer examination, a fully outsourced solution may actually provide higher quality, more efficient support without a prohibitive price tag.
Want to learn more about our approach to outsourced NOC support? Contact us to learn how we take the load off your IT staff while providing premium support, schedule a free NOC consultation with our Solutions Engineers, or download our free white paper below.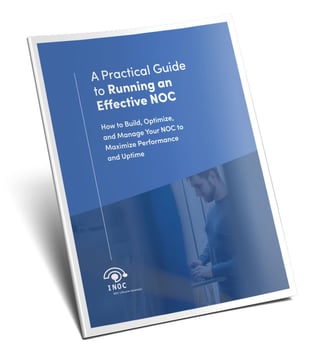 FREE WHITE PAPER
A Practical Guide to Running an Effective NOC
Download our free white paper and learn how to build, optimize, and manage your NOC to maximize performance and uptime.
SUBSCRIBE TO RECEIVE NEW POSTS IN YOUR INBOX
Let's talk NOC
Book a free NOC consultation and explore support possibilities with a Solutions Engineer.