Are you a game developer looking for a 24x7 NOC support partner? You just found it.

Our award-winning outsourced NOC support services provide exactly the level of support you need—when you need it. Focus your attention and resources on developing great games and leave infrastructure monitoring and management to us. Our NOC can rapidly respond to incidents and events and continue to implement changes as needed, all under a more cost-effective service model.

Learn more about our NOC Support (NOCaaS) Services →
This guide lays out the challenges game studios (developers and publishers) face in monitoring and managing modern network and other infrastructure environments, how those challenges can be addressed by a properly operationalized 24x7 Network Operations Center (NOC), and why it makes financial and practical sense to outsource that support to a third party NOC service provider.
Jump to:
The Challenges Game Developers and Publishers Face in Managing Network Operations Today
Game studios running network operations know firsthand the importance of maximizing performance and availability across their player-facing and internal service infrastructures.
But that task is getting simultaneously more difficult and more resource-intensive as studios face a few key challenges.
Growing pressure on gaming networks and infrastructure
The exploding popularity of cloud-based gaming, e-sports, and multi-faceted player experiences, combined with faster broadband, more live streaming, larger events, user-generated content, and complex multiplayer mechanics, is putting enormous pressure on the networks that enable modern gaming experiences.
Expanding development environments
Development environments are also becoming larger and more critical. If a dedicated support team isn't monitoring these environments around the clock, the ever-present threat of an internal outage or botched build execution can leave publishers in a gnawing state of anxiety (and behind schedule when disaster does strike).

Also, the fatigue that comes with development teams taking on overnight monitoring and support duties can quietly impact their work during the day and put projects and timelines at risk when exhaustion invites mistakes and oversights.
The Need for a New Support Model
As gaming's popularity continues to explode, publishers are challenged to maintain more reliable network connections for higher-bandwidth gameplay, more demanding development schedules, and emerging experiential channels like broadcast, social, and live events.

The old paradigm of game development—develop, ship, and move on—has been replaced by a model in which the shipment of a game is just the beginning of a continuous process of supporting and improving player experiences as the game evolves.
This new model requires a practical and cost-effective approach to network operations support, which many development teams are finding makes practical and financial sense to leave to skilled NOC service providers rather than trying to build, scale, and manage in-house.
In this new model, the increasing workload required to monitor and support networks, development environments, and other infrastructure is outsourced to an external service provider who can more efficiently manage these tasks at a lower cost than doing so in-house.
Just, as importantly, handing over mentoring and support to a dedicated 24x7 service provider also frees up internal teams to focus on making great games (rather than keeping the servers running).
A Solution in the Modern, Mature Network Operations Center
As every studio knows firsthand, the fact that gaming activity is in some ways outpacing the infrastructure relied on to facilitate it has presented gameplay-based challenges, too: high latency, server downtime, and poor playability have been a source of frustration for gamers. As a result, players are demanding better games and better connectivity to be able to enjoy them.
Edgegap's 2022 Online Gaming Connectivity Report, which surveyed 2000 U.S. and U.K. gamers across the PC, console, and mobile gaming segments, found that

50% of gamers surveyed cited lag and latency as their top frustrations when playing online.

More pertinent for publishers, 51% of gamers who lodge these complaints blame the companies managing the game servers or the game publishers and developers themselves.
Forward-looking studios are paying attention to the complaints of gamers and prioritizing investments in their networks. They're delivering great games and great gameplay. They're treating their infrastructures as a competitive advantage rather than a cost center.
Traditionally, the responsibility for monitoring and managing infrastructure investments has been given to the network operations center (NOC).
In the gaming industry, the NOC function has typically been handled by internal engineering teams or outsourced to development partners. However, both of these approaches can lack the operational maturity and specialized technical expertise needed to efficiently support modern gaming environments.
For example:
Many game-industry NOC teams aren't runbook-oriented. Without procedures to follow and strict adherence to said procedures, support quality is inconsistent at best. At worst, it's cowboys in the network. Uncontrolled or unapproved break-fix work in a game development environment can be (and often is) disastrous for already-stretched development timelines and staff morale.
Many NOC teams haven't structured themselves to handle most incidents at Tier 1. The typical support team doesn't equip its frontline engineers with the tools and knowledge to resolve basic or recurring incidents. As a result, frontline staff escalate more incidents than they fix—burdening advanced engineers whose attention is simply too valuable to be stolen by break-fix work. A well-operationalized Tier 1 NOC should be handling 60% to 90% of the events they receive.
Many NOC teams don't adequately correlate alarms and incidents or cut actionable tickets. Not every incident deserves its own ticket. Correlating multiple incidents that express the same underlying issue is key to streamlining a NOC's workflow. Also, the tickets that do get cut should contain concise, actionable information—not prompt more head-scratching that further wastes time downstream. Many NOCs lack the necessary tools to be efficient, leading to decreased productivity over time due to compounding "small" inefficiencies.
Given the shortcomings of current support models and gamers' extreme sensitivity to the slightest network hiccups, the core duties of the NOC—like monitoring networks and managing incidents—have simply become too critical to treat as one more hat for a dev team to wear. What may have passed for NOC support years ago simply doesn't pass today.
To overcome this challenge, game studios are increasingly turning to dedicated NOC support operations—teams whose time, attention, and expertise are devoted solely to monitoring and managing infrastructures around the clock. But building such a 24x7 support function in-house can be infeasible, both financially and practically, even for the largest studios.
Here are just a few reasons why:
Finding NOC specialists with the requisite domain expertise in today's competitive labor market is like finding a team of unicorns. It can take months to find the background and skillset you need in a single hire, let alone an entire 24x7 NOC team qualified to protect your particular networks. This gets ten times more painful when having to backfill specialized employees, too. The prospect of staffing these positions alone is often enough of a motivator for teams to outsource the NOC function.
Operationalizing a NOC to be efficient is no easy feat. A well-run NOC is more than just a room of people with some tools in front of them. Building a NOC to be efficient requires teams to develop and implement a framework on which to run—an authoritative blueprint that governs each action so the team can handle periods of high support volume without burning themselves out or pulling dev teams away from their projects. Experienced operations management is essential for driving continuous improvement, which, again, can be extremely difficult to find, let alone retain in a competitive labor environment.
Homegrown NOCs are prohibitively expensive to stand up and run. Even if you find that unicorn talent and implement such a framework, the ongoing costs of staffing a 24x7 support team and arming them with an advanced toolset can be senselessly slow and cost-prohibitive from a business standpoint. Keep in mind that a round-the-clock support team requires 12 full-time employees at a minimum.
The good news is, there's a better solution.
Strategically outsourcing network support to an operationally mature, dedicated NOC service provider enables publishers to side-step virtually all of those costs and challenges while getting a far better level of service from a partner whose sole focus is NOC support.
Rather than trying to build and manage an internal NOC, game publishers can simply plug into a third-party provider's support platform that provides 24/7/365 support coverage at a predictable and scalable operating cost.
The "NOCaaS" model not only makes high-quality support accessible and affordable for studios but also frees up development teams to, again, focus on what they're there to do: create great games.
Leading NOC support partners can also offer additional benefits such as identifying and addressing the root causes of recurring incidents, providing detailed reporting for a thorough understanding of operational performance, and supporting internal teams to provide exceptional live event support.
Bringing Game Support Home to the U.S.
The already-tough challenge of maximizing network uptime and performance has only gotten harder with rising security concerns and conflicts abroad. U.S.-based game publishers find themselves operating in a much smaller world of viable service providers that can ensure sensitive player data, confidential development materials, and intellectual property are safe from threats.
Making matters worse, much of the gaming industry's go-to NOC service has traditionally been concentrated in and around the Russian Federation. Given the current desire to exit relationships with Russian service providers, game publishers, like other companies, are reaching for every opportunity to responsibly re-shore their partnerships.
INOC for Game Companies and Their Partners
INOC can solve all of these problems for game publishers and their partners. With over 20 years spent delivering NOC service and in-house talent with direct experience building support operations for a major game publisher, we're uniquely positioned to deliver studios a unique, U.S.-based NOC support service complete with a robust security program that matches their own.
INOC can manage the 24x7 monitoring and response components of publishers' player-facing and internal services. We provide a critical frontline defense that frees development resources from tedious support duties.
A broad and deep bench of technical expertise enables INOC to provide comprehensive network, server, and application monitoring.
A robust operational framework and support platform delivers detailed metrics and visibility, enabling our monitoring teams to react quickly and optimize for peak support execution. Game publishers and their players get the performance and availability needed to meet today's high service demands.
We meet rigorous international standards in ensuring the confidentiality, integrity, and availability of customer data, systems, and infrastructure being monitored and managed by our NOCs. As a leader in the NOC services industry, keeping client data fully secured is something we take very seriously. We've built a comprehensive security team that covers staff roles in compliance, technical, and SOC operations to maintain our ISMS to the standards demanded by government entities. Our security certifications include ISO 27001, NERC CIP compliance (energy), U.S. Privacy Shield, and CAS(T).
Simply put, our goal is 100% uptime across all of your networks—whether it's supporting game servers, protected development environments, live events, broadcast channels, or any other component that requires precise monitoring and tight operational control led by senior technical experts.
Our NOC uses advanced event detection systems and SLA-specific responses to keep your infrastructure operating around the clock for seamless, uninterrupted player experiences. Game publishers can access multi-tier operational and management support for IT and back-end systems along with highly-refined escalation procedures that bring much-needed consistency and organization to support operations.
INOC's 24x7 NOC Support Capabilties for the Game Developers, Publishers, and Partners
Here are just a few NOC capabilities we bring to game developers, publishers, and their technical orchestration partners:
Proactive monitoring of online games and related systems required for 24/7 availability.

Continuous granular monitoring of game systems, operational system health and performance, and player experience.

The ability to triage, address, resolve, and escalate problems and provide on-call personnel with critical information quickly, clearly, and concisely.

The ability to triage, troubleshoot, and provide general operations support for game development teams

The ability to develop and manage process documentation like SOPs, alarm-to-action guides, and runbooks

Fast, expertly-managed patch and build deployment management.
Preparation of accurate and timely reports with updates, summaries, and granular details on events and issues

Operational planning and support for Major Events (Betas, Launches, Conventions etc.)

Experienced Operations Management to drive continuous improvement

In-House Gaming Industry Expertise


INOC's Senior Director of NOC Operations, Brandon Atkins, brings more than six years of experience in live operations, production, and development for Bethesda Softworks.

Targeted Solutions for Game Studios' Biggest Support Needs
Incident Response and Management
Publishers focused on game development deserve a dedicated team to be the eyes and ears of their game servers, development environments, and all the other connected environments that facilitate the gaming experience and company operations. Relying on internal technical staff to respond to and manage incidents typically means stealing time from some aspect of game development.
INOC monitors your infrastructure and services and responds to incidents so you can focus solely on building and delivering incredible games.
"Game publishers that manage their networks need a 24x7 team to monitor their systems, pick up on subtle indicators of issues and prevent them, and respond when things break. Capturing those alerts and incidents—and having the runbooks and training to resolve a lot of those problems or escalate them to the appropriate party with an actionable ticket is a huge unlock for a game publisher's productivity and general peace of mind."

— Brandon Atkins, Senior Director of NOC Operations, INOC
Routine, 24x7 Ops Support
The value of third-party NOC support stretches well beyond break/fix work. Many procedure-driven development processes in the game development lifecycle can benefit immensely from partial or full ownership or at least involvement from a skilled NOC team that can free internal engineers from the tedious parts of development. Build-publishing is a great example of a task better owned by the NOC.

While development or QA teams traditionally publish up their development chain, a skilled NOC team armed with effective SOPs and runbooks is perfectly suited to take on this work and more efficiently escalate tasks and resolve issues when they arise—unlocking new opportunities for the publisher to streamline development operations. Rather than devoting the development team's time and attention to pushing builds, watching code execute, and investigating issues, devs can get back to making games.
"When I'm talking to studio heads about network operations, the question is usually the same—do you want an engineering lead or senior developer woken up in the middle of the night to respond to a critical alert? Or worse—do you prefer not to wake anyone up only to have the development team arrive the next morning to discover that the build failed overnight so no one can work today? Our 24x7 support team can get those alerts at 3 a.m. and follow procedures to get things back on track or escalate it with an actionable ticket so the person that does have to be woken up has all the information they need to resolve it. The productivity implications are huge."

— Brandon Atkins, Senior Director of NOC Operations, INOC
Live Event Ops Support
Our NOC support services also bring a whole new level of operational efficiency to virtual and physical event support for game launches, tournaments, livestreams, and more. We can work closely with development and production teams to prepare comprehensive readiness checklists ahead of events and run live support operations—helping manage senior technical staff stay laser-focused on priority incidents.
""With events getting bigger and more multi-faceted from a technical perspective, we can ensure publisher and telecom teams prepare ahead of time and have the right people in the room in case issues arise. Live ops support is about triaging what actually needs attention from who and keeping engineers focused. If you have 30,000 players affected by an issue, it should take priority. We can bring the operational awareness and expertise to be able to manage very high-level senior engineers to resolve issues and keep them focused."

— Brandon Atkins, Senior Director of NOC Operations, INOC
Overcome the infrastructure challenges that stand in the way of delivering incredible games.
How long are you going to wait to unlock the full potential of your infrastructure and give it the support it deserves, 24x7? We understand uptime and availability are vital to your studio's success. No matter what NOC solution fits your infrastructure support needs, we provide you the comfort and confidence that comes with fast, effective issue resolution, 24x7 support, and the full visibility needed to achieve peak performance and keep your development schedule on track.
While we employ a wide array of cutting-edge technology and sophisticated operational tools, it's our depth of knowledge that makes the difference. With decades of experience in infrastructure monitoring and engineering—and with thousands of mission-critical decisions under our belts—we're uniquely equipped to solve problems, identify opportunities, and design support frameworks that satisfy and very often exceed growing infrastructure support demands among game publishers.
Learn more about our NOC services:
24x7 Outsourced NOC Support (NOC as a Service) — Our NOCs monitor tens of thousands of infrastructure elements around the clock and rapidly respond to events and incidents, implement changes as needed, and continually improve operations—all under a more operationally efficient service model. Deep-level NOC management expertise and a proven operational framework ensure you and your customers achieve the infrastructure performance and availability needed to grow and thrive with confidence in a quickly-changing technology landscape.
NOC Operations Consulting — Need help optimizing your existing NOC? Our NOC experts assess support requirements, analyze gaps, and draw on operational best practices to provide tiered organization structures, define appropriate workflows, and provide full operational visibility into your infrastructure and support systems.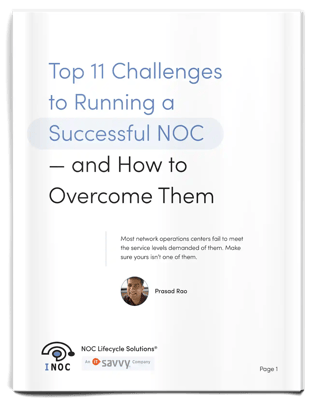 FREE WHITE PAPER
Top 10 Challenges to Running a Successful NOC — and How to Solve Them
Download our free white paper and learn how to overcome the top challenges in running a successful NOC.
SUBSCRIBE TO RECEIVE NEW POSTS IN YOUR INBOX
Let's talk NOC
Book a free NOC consultation and explore support possibilities with a Solutions Engineer.