Looking for a NOCaaS partner? You just found it.

Our award-winning outsourced NOC support services provide exactly the level of support you need—when you need it. Focus your attention and resources on revenue-generating projects and leave infrastructure monitoring and management to us. Our NOC can rapidly respond to incidents and events and continue to implement changes as needed, all under a more cost-effective service model.

Learn more about our NOC Support (NOCaaS) Services →
No matter the size or type of your business, outages are inevitable. Some may have a limited impact. Others may cause severe and potentially catastrophic damage. In any case, every second of downtime can cost you time and money.
A properly developed and well-managed Network Operations Center (NOC) is the bulwark against downtime and its costs. An effective NOC is both reactive in mitigating losses when the unavoidable downtime strikes and proactive in improving network, infrastructure, and application performance to keep those events to an absolute minimum.
A poorly organized and run NOC, by contrast, leaves your technology investments—and the business activities that rely on them—constantly exposed and vulnerable.
The "NOC as a service" (or NOCaaS) support model helps enterprises and communications service providers offload the costs and complexities of establishing and maintaining a NOC so they can better allocate their resources to revenue-generating projects.
Here, we define what NOC as a service means and what companies should consider when deciding how best to pursue and secure the support they need.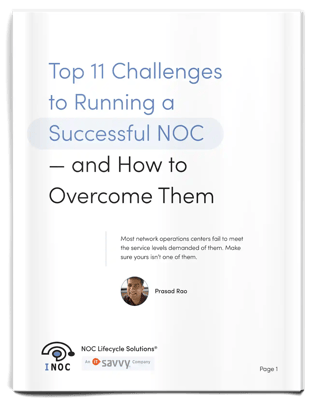 FREE WHITE PAPER
Top 10 Challenges to Running a Successful NOC — and How to Solve Them
Download our free white paper and learn how to overcome the top challenges in running a successful NOC.
Contents:
What is "NOC as a Service"?
The term "NOC as a service" can have a few different meanings, so it's important to clarify what we're talking about.
It's sometimes used to refer to outsourced NOC services. That is, hiring a third-party NOC provider to augment your NOC or become your NOC (rather than building and managing one yourself).
Other times, it's used to refer to a managed service, which is a little different. Here's a simple breakdown of the differences:
Managed services

typically refer to a very simplified standardized set of services to manage devices, compute, applications, and other infrastructure components.

Outsourced NOC services

typically refers to a customized outsourced operational service that takes on the cost and complexity of setting up and completely running operations, or augmenting the client's NOC such as performing off-hours services or operationally and technically managing a subset of the infrastructure. The NOC service provider first conducts an assessment to learn precisely how the service needs to be established and operationalized. Then they work with the client to turn up services. Support is delivered as an ongoing service—likely much more cost-effectively and less stressfully than performing those functions in-house.
When companies say they're looking to "stand up a NOC" and are considering doing that themselves or outsourcing that work to a third-party NOC provider, NOC service as we described it above is most likely the right fit. Clients typically have a lot of tasks for the NOC to do. The support provider will replicate what an in-house NOC team would otherwise be doing and carry out support.
That's in contrast to, for instance, turning up service for some number of devices at a specific set price per month. That's more in line with a traditional managed service—something that's a great fit for IT integrators or circuit providers looking to add white-labeled support to their products, but not such a great fit for most enterprises and service providers that need a much more involved and customized solution.
Head to our partner page to learn more about enhancing your managed service offering with 24x7 white-labeled NOC support.
Why Do Businesses Outsource NOC Support Through the NOC as a Service Model?
Regardless of a company's size, its networks, infrastructure, and applications need to be managed appropriately. But that's easier said than done. The people, processes, and platforms required to keep up with the demands on today's IT systems can be costly—a problem that's complicated by typically low levels of utilization for the average in-house team that doesn't justify the high price-tags of a full suite of NOC tools and human resources.
Another problem companies encounter when developing an in-house NOC is the lack of up-to-date knowledge about developing efficiencies and capabilities when it comes to hiring and managing staff, developing the operations model and tasks, and implementing the correct platforms properly.
Given the costs, complexity, access to tools, and expertise required to properly monitor, manage, review, and optimize these systems, many companies outsource these activities to a NOC support provider that can more effectively and efficiently do all of these things and more at a fraction—often half—the cost.
Outsourcing NOC support (NOC as a service) to a provider with a highly operationalized NOC will not only free up your precious in-house resources to work on more revenue-generating projects, it will ensure the right people, processes, and platforms are in place to meet and exceed the service levels demanded of your end-users or customers.
The net result is almost always the same:
a reduction in overall operational costs;
an improvement in the metrics tracked to manage those costs; and, in most cases,
significantly improved performance.
In short, an outsourced NOC offers you the unique ability to get as much or as little support as you need so you can better utilize your own IT resources—all while protecting your business and meeting or exceeding desired service levels.
What Services or Functions Are Included in a Comprehensive NOC as a Service Offering?
Once companies see the comparative upside to outsourcing their NOC support, the next question is, "what exactly will we get?"
That answer will vary from one service provider to the next, which is why it's critical to ensure a provider's service catalog is well-defined and covers exactly what you need along with value-add services.
Here at INOC, outsourced NOC support includes the following services and functions which are detailed out in a NOC service catalog:
Event Monitoring & Management
Incident Management

Notification Support
Tier 1 Support
Advanced (Tier 2 & 3 Support)

Problem Management
Capacity Management
On-Demand NOC Support
Service Transition

Planning & Support
New Service Onboarding
Change Management
Service Asset & Configuration Management

Service Reporting & Service Analysis
Complementary Support Services
Read also: Shared vs. Dedicated NOC Support: A Quick-Guide

What Problems Does Effective Outsourced NOC Support (NOC as a Service) Solve?
An underperforming NOC can suffer from a number of challenges. Sometimes it's a technical problem, such as a monitoring tool that hasn't evolved or a NOC that's under-operationalized and dangerously vulnerable as a result.
In the former case, an expert outsourced service provider can help you understand exactly which tools are optimal given the factors at hand, or how existing tools can be updated, condensed, or reconfigured to meet the business's evolving needs.
In the latter case, a service provider will immerse themselves in your business to understand how best to operationalize the support function. An experienced NOC service provider will collectively have an extensive breadth of best practices at hand and a clear process for capturing gaps in service and readily resolving them—important capabilities that are tough to pull off in-house.
Below, we've identified five of the ten challenges we see and solve most often with effective outsourced support. Grab our free white paper, Top 10 Challenges to Running a Successful NOC, for more information on these and other common challenges.
1. Over-utilized technology staff and missed opportunities for reducing support costs
The Problem

Failing to organize NOC activities and workflows based on technology and skill level is one of the biggest hindrances to building a successful NOC. Without an organizational framework that informs exactly how the NOC operates, teams will very likely deal with over-utilized staff and high support costs.
Without clearly classifying each NOC activity and properly managing workflow that considers essential variables such as SLAs, technology, and technician skill level, a NOC can be easily overwhelmed by the "wall of red." Also, not having the correct metrics and KPIs makes it difficult for NOC management to understand how to structure services provided by the NOC.
The Solution
An effective NOC support partner solves this by implementing a tiered operational support structure. This structure enables managers to leverage the lower-cost first-level or Tier 1 team to perform routine activities and free up higher-level or Tier 2 and 3 technical teams to focus on more advanced support issues—and importantly—revenue-generating projects.
An effective operational support structure organizes and prioritizes issues into a set of queues, each of which can be handled by the appropriate group. An extensive review of the metrics produced by the toolsets is imperative to achieving three big objectives NOCs struggle with most:
properly utilized staff;
lower support costs, and
fewer frantic calls in the middle of the night.
2. A blindness to issues and opportunities
The Problem
Many NOC teams don't set the performance objectives that should be evaluated on a daily, weekly, and monthly basis. Yes, the amount of data available to a NOC is daunting. The key, however, is to choose the metrics that are most meaningful and applicable to your specific operation and track them relentlessly. The metrics you pay the most attention to should reflect the size and scale of an operation and include KPIs that measure the operation's performance compared to a set of organizational objectives.
Identifying which KPIs are meaningful—and how best to track them—is something we help support teams figure out all the time. Schedule a NOC consultation with our Solutions Engineers and get the conversation started.
The Solution
No matter what kind of NOC support you need, an effective outsourced partner will always start by stepping back to analyze the business, your customers, and the support requirements ahead of you so the right metrics can be identified and tracked. Read our other post to learn more about the importance of a business analysis before turning up NOC support: Building and Setting Up a NOC: The Critical First Steps.
3. High staff turnover
The Problem
Staffing a 24x7 NOC requires staffing three shifts a day, 365 days a year. Providing a productive, healthy work environment that attracts and retains talent you can rely on isn't easy. Often, NOCs don't provide the structure and support commensurate with the demands on the typical NOC engineer. The resulting high turnover further burdens management and HR while opening the door to serious risks.
The Solution
An effective outsourced NOC partner will shoulder the burden of staffing, so, again, you can focus in-house resources on more important revenue-generating activities. Here at INOC, our staffing strategy is designed to make work both challenging and fulfilling for everyone. Work is manageable, support is given, and everyone has an opportunity to grow.
4. Lack of consistency in responsiveness and troubleshooting due to inadequate process frameworks
The Problem
Inconsistency is one of the main reasons NOCs don't perform at optimal levels. Many NOCs don't have a standardized process framework from which to operate. The resulting confusion and disorganization slow the NOC team down and leave engineers needing to make snap decisions that may not be the right or best course of action.
The Solution
An effective outsourced NOC partner will achieve consistency through a standardized process framework that provides the NOC with a set of specific procedures for handling various support situations.
5. Constant vulnerabilities due to an insufficient business continuity plan
The Problem
Without an effective business continuity plan, significant business disruptions (SBDs) can threaten IT service support by hindering critical support functions. SBDs may be a local environmental event, a significant telecommunication issue, a regional power disruption, or a global pandemic, just to name a few of the many possible threats.
The Solution
An effective outsourced NOC partner will bake business continuity into its service offering. Its plan will be robust and imaginative to ensure it can continue meeting service levels in any event. Look for the following items in any NOC service provider's business continuity plan:
An analysis of all organizational threats
A list of action items required to maintain operations, both for short-term and long-term interruptions
Easily accessible contact information for key stakeholders
An explanation of where/how personnel should relocate if there is an interruption in operations
The steps required to make the backup site(s) operational
Read our free white paper, A 5-Step Strategy for NOC Business Continuity Planning in Response to COVID-19, to learn clear, practical steps you can take to develop a remote NOC solution, update your BCP, and protect against workforce disruptions now and in the future.
Key Considerations When Deciding to Outsource NOC Support
Although some may assume an in-house NOC affords greater control and is therefore preferred, the right outsourced NOC operation can offer a suite of capabilities and efficiency advantages that dramatically tip the scale in terms of cost and value.
The control and assurance once afforded by keeping the NOC in-house have largely been upstaged by outsourced service providers that have bridged those gaps and developed platform capabilities that simply wouldn't be viable in-house investments due to low utilization.
Consider the following points when deciding if outsourcing NOC support is optimal for your organization.
The basic math of costs
In most organizations, staffing a NOC is often a needlessly high expenditure compared to outsourcing. Given the payroll and overhead costs of building a NOC in-house, electing for outsourced support can cut your total cost of ownership in half.
A plan that doesn't consider this opportunity might, for example, call for a staff of 12 full-time employees, when in fact, the same or likely better support could be provided through an outsourced service solution that takes full advantage of an economy of scale to provide far better service at a far lower cost.
In addition to staffing costs, the cost of acquiring, implementing, and integrating a full suite of NOC tools only further tips the scale in favor of outsourcing much of the time.
The impact of operational maturity, access to expertise, and time to value
Perhaps the most apparent difference between homegrown and outsourced NOCs are the capabilities that come with an already-mature operation and access to niche NOC expertise.
Between planning a NOC build, hiring a team, training that team, and aligning over the operational plan, in-house NOCs can expect 16 to 24 weeks minimum before all the parts are even in place. It can then take months or years to gain confident control over the system and bring it into a state of real operational maturity.
Turning up support with an outsourced NOC condenses all that time and effort into a number of weeks instead of years—often far more cost-effectively.
4 Steps to Outsourced NOC Support With INOC
New clients often worry about the process of outsourcing their NOC support through the NOC as a service model. It's the kind of project teams don't do every day, and depends on asking the right questions and gathering a full set of requirements from the start. Here at INOC, we make onboarding easy with a proven turnup process guided by experts each step of the way.
The graphic below illustrates our 4-step process (which is really a cycle) for turning up, delivering, and continually improving outsourced NOC service. We unpacked each step with a summary below it.
Read our other post for a detailed breakdown of the onboarding process: Onboarding Outsourced NOC Support: 9 Steps to Success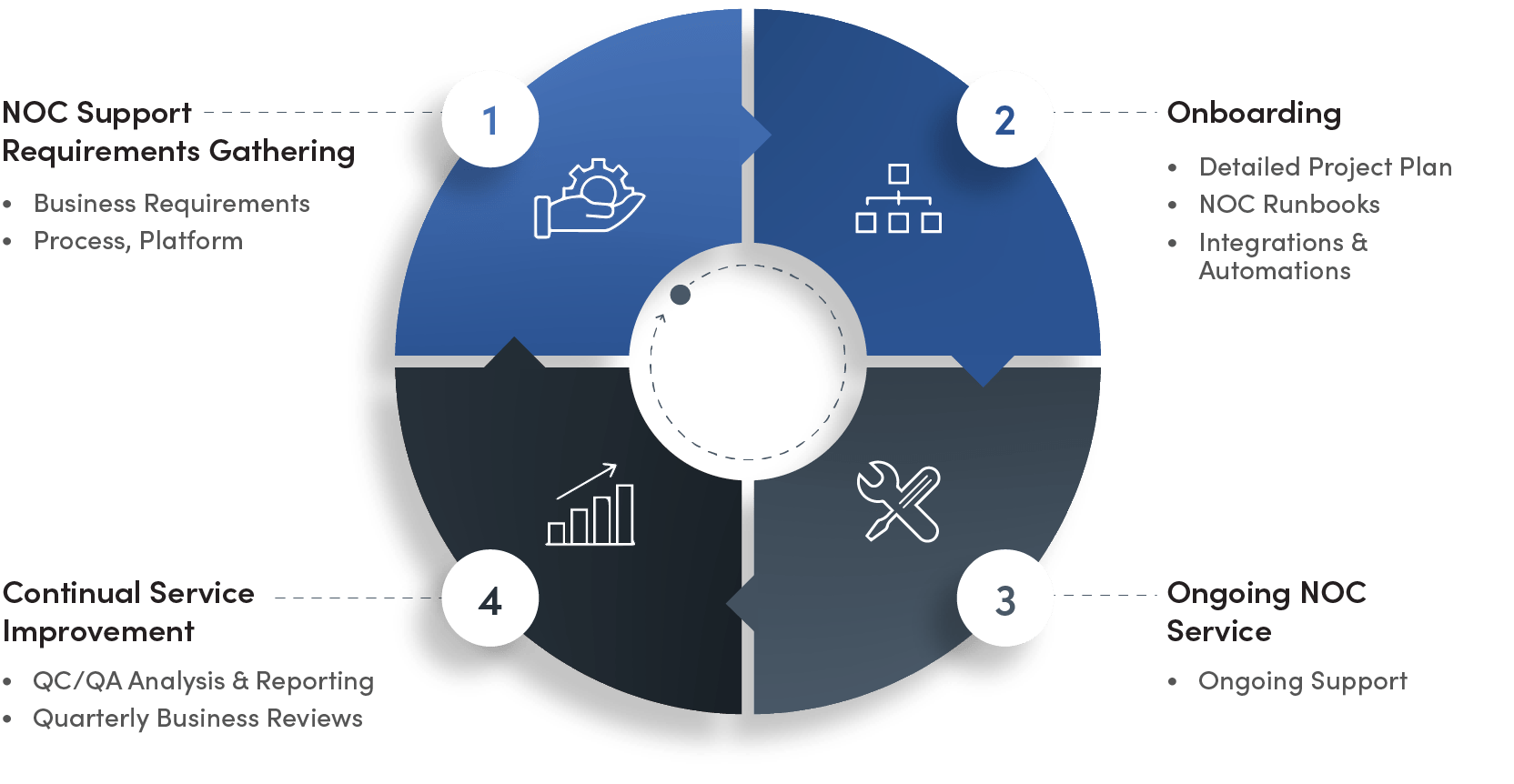 NOC Support Requirements Gathering:

We work closely with you to understand your business needs and what's driving you towards an outsourced NOC solution. Then we'll drill deeper to understand which specific components of service will be handled by each team. Whether you're looking for a completely outsourced NOC solution or need supplemental support to fill gaps or scale service, we help you assemble the perfect service package.

Onboarding: We assign a certified project manager and engagement lead to each onboarding project, who will carefully guide you through the onboarding process each step of the way
Ongoing NOC Service: Once you're up and running, we'll help you understand the nuances of NOC operations and how we cover a vast number of technologies and manage change as we deliver award-winning service.


Continual Service Improvement

: IT environments are anything but static. That's why we routinely work with you to identify your changing business needs and do everything we can to ensure satisfaction with all of our services. Read our guide to CSI in the NOC here.
Learn more about NOC Turnup & Assessment with INOC.
Summary, Final Thoughts, and Next Steps
For most companies, the cost and complexity of building and managing a NOC is a diversion from focusing its attention where it's needed most: innovating and growing the business.
Without an effective NOC, persistent support issues lead to expensive project delays, endless stress, and serious vulnerabilities that threaten your business.
Through the NOC as a service model, an outsourced support provider helps you take control of your infrastructure through a suite of NOC solutions designed to meet the specific needs of your technology environment and operational workflow—all while enabling you to focus internal resources on the projects that move the business forward.
Want to learn more about our approach to outsourced NOC support? Contact us to see how we can help you improve your IT service strategy and NOC support, schedule a free NOC consultation with our Solutions Engineers, or download our free white paper below.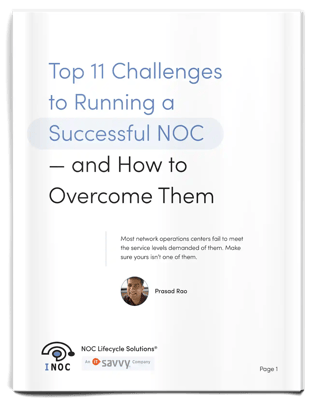 FREE WHITE PAPER
Top 10 Challenges to Running a Successful NOC — and How to Solve Them
Download our free white paper and learn how to overcome the top challenges in running a successful NOC.
SUBSCRIBE TO RECEIVE NEW POSTS IN YOUR INBOX
Let's talk NOC
Book a free NOC consultation and explore support possibilities with a Solutions Engineer.