Key takeaway at a glance

Outsourced NOC services are a cost-effective alternative to building and maintaining an in-house NOC, allowing internal staff to get out of tickets and focus on higher-value tasks. Outsourcing the NOC lowers costs by reducing staffing overhead, improving resource utilization, and easing management burdens.

There are two primary pricing models for outsourced NOC service: fixed per-device pricing and adaptive operational activity pricing. Per-device pricing is simple and easy to project operational costs but very often forces companies to pay for unneeded support. Adaptive pricing offers cost savings by adjusting pricing based on actual observed activity levels, which can significantly lower the overall cost of service. It's important to consider both pricing models when comparing potential NOC partners, focusing on the model that best fits your business needs.

When evaluating NOC service providers, consider the services included in the pricing and any additional services that may offer cost efficiencies. Investments in proprietary tools, best-of-breed technologies, and AIOps can provide added value that outweighs the costs reflected in pricing.

As IT infrastructures and applications grow larger and more complex, Network Operations Centers (NOCs) need to keep pace by ensuring their technical and operational capabilities can monitor, manage, and respond to events effectively.

Especially for enterprises and communications service providers with sprawling IT and network environments, the growing complexity can require an extensive array of tools, specialized talent, and robust processes that don't come cheap. These expenditures often make NOC outsourcing an exceedingly attractive option both in terms of capability and cost.

Rather than absorbing the high price of building and maintaining what often becomes a frustratingly underutilized in-house NOC, outsourcing support to a highly-capable partner enables companies to plug into an operationally mature NOC and recoup those costs while freeing their staff to focus on advanced support work and high-value, revenue-generating projects.

While the cost-effectiveness of outsourcing is apparent at a high level, differences in pricing models between NOC service providers can significantly impact the actual cost, making it a critical factor when comparing potential NOC partners.

Here, we break down the two main pricing models for outsourced NOC service (sometimes referred to as NOC as a Service) you'll likely encounter when engaging prospective NOC providers and highlight a few critical points to consider in the context of your own support requirements.
Fixed Per-Device Pricing vs. Adaptive Operational Activity Pricing
There are two primary pricing models for outsourced NOC service: fixed per-device pricing and adaptive pricing based on activity level over time.
Fixed per-device pricing is exactly what it sounds like. Devices are either categorized and priced by type, or, more generally, as a total number of "devices" or "nodes."
Adaptive operational activity pricing is a more sophisticated pricing model that determines pricing based on the actual NOC activity levels measured across your supported infrastructure over time.
While the number of devices requiring monitoring and support is always a critical factor when pricing NOC service, in our view, it's often an overly simplistic long-term pricing factor to be used on its own, except in specific circumstances.

Especially for companies outsourcing to avoid what would be an expensive, underutilized in-house NOC, adapting flat, all-inclusive service pricing that tracks with activity levels can significantly lower the overall cost of service while retaining the ability to project costs as you would with totally fixed per-device pricing.
Key Pricing Considerations When Comparing Potential NOC Partners
A central question when comparing potential NOC partners isn't whether they use one pricing model or the other but rather whether they only offer per-device pricing or take a combined approach—electing for the model that lends itself better to your business needs and bottom line.

Some outsourced NOC service providers strictly offer per-device pricing (or something very close to it).
Depending on how many devices you have, they apply a per-device cost to arrive at a total service price. This is sometimes referred to as a "licensing" model. While this approach to pricing is easy for projecting operational costs, it often forces NOC clients to pay for support they never actually need or use.
Other NOC service providers, including INOC, offer both per-device and an adaptive activity-based model based on whether per-device pricing is required or whether one model proves more cost-effective based on your particular support needs.
Per-device pricing may be necessary for some circumstances, such as at the outset of a new service or when a company needs to project precise operational costs for planning future service expansions. But many support scenarios benefit immensely from shifting to adaptive pricing that reflects actual observed activity levels.
Especially for companies with relatively low NOC utilization, this model allows them to sometimes substantially decrease their total service costs compared to what they'd otherwise need to pay through a model that's fixed by device regardless of actual demand on the NOC.
Here at INOC, for example, we consider the number of devices or nodes—and sometimes other factors such as average tickets per month—to help us make necessary initial assumptions at the start of service and arrive at an initial flat price. Then, each quarter, we re-evaluate those assumptions based on activity levels observed in the NOC and any potential changes to your environment that may affect activity volume before discussing a pricing adjustment that reflects those changes.
Again, in scenarios where utilization is relatively low, the cost savings can be significant.
How a Structured NOC Can Lower Your Total Cost of Ownership
Beyond only looking at the price of outsourced NOC service, it's important to realize that the value of turning up on an operationally-mature, tiered NOC can deliver additional value that stretches back into your organization to lower your total cost of ownership (TCO).
Here are just a few ways NOC clients often realize that value in ways that lower TCO costs:
Lower Staffing Levels: For new NOC builds, a tiered organizational structure can often lighten initial staffing projections since Tier 1 (and possibly higher tier) activities may not require the number of staff initially projected. For existing NOCs or new builds, the question of opting for a shared versus dedicated outsourced support model can unlock a slew of TCO opportunities onto itself.
Better Resource Utilization: In addition to impacting the number of staff required, a properly-structured outsourced NOC can improve the ways those resources are utilized internally. By outsourcing Tier 1 support, for example, engineers and system administrators are freed from the day-to-day minutia to focus on escalated Tier 2 and Tier 3 support as well as new projects—an antidote to burn-out and a boost to morale and job satisfaction. Here at INOC, our NOC support framework typically reduces high-tier support activities by 60% or more, often as much as 90%.
Easier Management: A structured, outsourced NOC can also lift many of the more general internal management burdens that steal valuable time from revenue-generating activities. With a smaller, more satisfied team focused on the projects that contribute to their personal development and the business's, managers can enjoy better retention and end the revolving door of hiring. This is just one example of how a well-structured NOC can provide additional value from a management perspective.
Unpacking the Core Services and Value-Adds of Outsourced NOC Service
As part of any vendor evaluation, it's important to identify which services are included in the pricing you receive. More than making sure you're receiving the services you know you need, consider how any additional services may unlock cost efficiencies that would strengthen the overall value of that particular offering.
Here at INOC, the following services make up the core of our NOC service offering, which can be scaled up or down to fit any client's needs.
24x7 Tier 1-3 NOC Support
24x7 Service Desk
Escalation for Tier 4 Vendor Support
Event Monitoring and Management
Incident Management
Problem Management
Capacity Management
Change Management
System Dashboards and Reporting
System/Device Backups
Scheduled Maintenance Support
Span/Circuit Management
It's also important to compare a comprehensive service offering like this against the combined costs of a service package priced one by one.
In addition to the service costs, it's critical to realize how the investments made to improve the platform provide value-adds that far outweigh the costs reflected in pricing. Specifically, this includes the ongoing development of proprietary tools and investment in best-of-breed technologies.
Here at INOC, for example, we've developed and implemented AIOps functionality that directly contributes to, among other things, lower mean time to resolution and several other efficiencies that have led to measurable improvements in client outcomes.
Read our free white paper, "The Role of AIOps in Enhancing NOC Support," to learn more about how AIOps is unlocking new opportunities to maximize availability and performance across client infrastructure and applications.
We've also developed and integrated middleware that provides, for example, extremely convenient ticket handling to meet and exceed particularly demanding SLAs.
Realizing existing gaps in existing monitoring tools in specific areas such as optical, DAS, servers, and applications, we've developed proprietary systems to improve our capabilities beyond what current commercial tools are capable of.
All of these investments provide a return in the quality and consistency of the support provided—a relatively small component of an overall pricing package that delivers an outsized return in value.
Summary, Final Thoughts, and Next Steps
When the cost benefits of outsourcing NOC service are clear, finding the perfect support partner means, among many other things, evaluating their pricing model to ensure it's designed to maximize value and cost-effectiveness.
We're often asked if our NOC service is priced per alarm, per port, or determined by some similar asset criteria. While it certainly can be, and sometimes must be depending on a client's needs, especially for organizations with many devices, we instead develop custom pricing based largely on activity levels.
In addition to evaluating what's included in the pricing you're presented, such as Service Desk, third-party support, and support for scheduled maintenances, it's important to step back and evaluate the pricing model itself to ensure you're getting both the capabilities you need at a price that fairly reflects both the size of your environment and the demands they place on the NOC.
Want to learn more about how a tiered NOC support structure can help IT Support Managers cost-effectively address their support needs? Contact us to see how we can help you improve your IT service strategy and NOC support or download the free white paper below.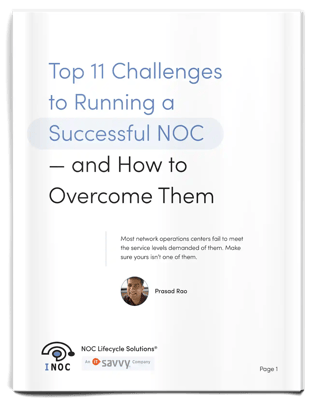 FREE WHITE PAPER
Top 10 Challenges to Running a Successful NOC — and How to Solve Them
Download our free white paper and learn how to overcome the top challenges in running a successful NOC.
SUBSCRIBE TO RECEIVE NEW POSTS IN YOUR INBOX
Let's talk NOC
Book a free NOC consultation and explore support possibilities with a Solutions Engineer.