Business models and the technology environments they rely on to work are evolving fast. Companies require that infrastructure and application availability be assured 24x7 to avoid expensive disruptions.
The network operations center (NOC) is central to keeping businesses up and running. But rather than shouldering the costly burden of building, scaling, and managing a NOC, many organizations are strategically outsourcing their support. With the right third-party NOC provider, teams can immediately plug into an operationally mature, capable, and highly scalable support operation at a fraction of the cost and complexity.
While the control and assurance once afforded by keeping the NOC in-house may still be advantageous for smaller teams and in certain situations for larger teams, third-party service providers that dedicate themselves to client-focused NOC support offer capabilities and efficiencies that simply wouldn't be viable in-house investments. When the numbers are laid out, and the math is done, building and maintaining an in-house NOC is more often a costly distraction from important strategic projects.
With the same or better level of control—and the significant cost-efficiencies gained by eliminating the need to build and maintain a platform and staff in-house—any company considering bringing a NOC to life internally should carefully determine whether the added costs, effort, and responsibilities are worth it.
It's essential to note that the act of outsourcing itself doesn't confer any benefits by default. It takes the right third-party NOC provider to give your team the advantages outsourcing can offer. With that in mind, consider every advantage and disadvantage we explore below as a "potential" pro or con depending on the service provider in question.
Here's our list at a glance. Use the links to jump around this guide.
Potential advantages:
Potential disadvantages:
The Potential Advantages of Outsourced NOC Service
Let's explore some of the potential advantages of outsourcing when you find a capable provider or partner well-suited to address your support needs and free your team to focus on strategic projects or core services.
Advantage #1: Immediate access to a structured NOC environment, expertise, and best practices
Outsourcing to an experienced NOC service provider gives you virtually immediate access to a support platform and team that's spent years—or even decades—refining itself into a well-oiled, highly-capable operation.
This is especially advantageous for enterprises, service providers, and similarly, tech-heavy organizations whose support environments demand high-quality service now—not in five years.
Most organizations can't afford to spend several years and significant CAPEX to attempt to reach a high level of operational maturity and develop best practices themselves. Outsourcing simply offers a faster, more convenient, and cost-effective option.
Smart outsourcing also offers instant access to rare NOC talent. Finding NOC specialists with the requisite domain expertise is a massive challenge in itself, especially in today's competitive labor market. Developing an operational framework on which to run the NOC is its own under-appreciated project that requires exceptionally specialized experience that can be next to impossible to find.
This talent specialization is critical to ensuring the NOC can effectively navigate all the operational challenges that impede its success and flexibility—and reach the requisite level of operational maturity we just discussed. Operational blindspots (the things you don't know you don't know) are frustratingly common tripping points that can have far-reaching consequences for a NOC and the end-users or customers that rely on it to perform around the clock.
When the NOC isn't thoughtfully operationalized around specific challenges, it has almost certainly signed itself up for stressful and expensive problem-solving down the road (not to mention unhappy end-users and customers). Outsourcing to a service provider who acknowledges these challenges, and is equipped to solve them right off the bat, can be an immense advantage for any organization.

Advantage #2: Speed
Another potential advantage speaks to a fundamental difference between building something yourself and outsourcing it to an expert team: speed.
We can break this down into two dimensions: turn-up time and service support.
Faster turn-up time
Putting aside the time it takes to become operationally mature for a moment, simply bringing a NOC "online" can take an in-house team far longer than it takes to turn up and onboard with a NOC service provider.
Again, it's the difference between plugging into a refined NOC operation—complete with people, processes, and platform components—and implementing each of these elements yourself.
Between planning the build, hiring a team, training that team, and aligning over the operational plan, in-house NOCs can expect 9 to 12 months minimum before all the parts are even in place.
It can then take several months to gain confident control over the system—and then several years to become operationally mature to the point where the NOC has the data, technical capability, and additional support it needs to improve itself continually.
Using ourselves as an example, we typically get clients up and running on our NOC in six to nine weeks. Learn more about our onboarding process

here.
Here are a few questions that can help you contextualize the speed advantage for your team:
How do your NOC requirements impact the time you could expect to get a homegrown operation running and operationally mature?
What risks will your business services remain vulnerable to before an in-house NOC could be deployed?
How do the required skill sets for building and managing an in-house NOC impact internal payroll expenditures and the timeline for the build?

Faster service support
Outsourcing your support function to a mature NOC not only reduces the time it takes to get your business's NOC support turned up but also provides superior speed of service once it's up and running.
A "mature" NOC operation is measured in part by its efficiency. In our experience, many "immature" outsourced NOC providers fall down here because they're not thoughtfully operationalized themselves—and pass those inefficiencies to their clients and end-users or customers.
By far the biggest cause of this failure is the lack of any authoritative blueprint for the NOC to follow—a documented framework that establishes clear, standardized rules that govern how the NOC team should operate. This should be one of, if not the, most important components to look for in any potential service provider.
Here at INOC for example, our slightly counterintuitive workflow, while "costing" slightly more, actually delivers far faster and more accurate support:
Incidents are diagnosed and often "de-escalated" by an advanced team first (our Advanced Incident Management (AIM) team) rather than filtering the issue up through lower tiers immediately.
This approach helps ensure the issue is quickly routed to the correct team and is addressed with the correct solution for the technology being used and according to service levels, with the aim of driving down MTTR and improving other key KPIs.
In-house NOCs often do not deal with the volume of issues that an outsourced provider encounters, so they can never justify hiring enough engineers to build a truly structured NOC. This results in an inability to unlock certain efficiencies.
At the same time, not all NOC providers have such a sophisticated operational structure in place. Many simply pass incidents through the lowest, least expensive tiers first before turning them over to advanced technicians. This is a more cost-effective method, but the potential for inaccurate or incomplete diagnosis by the Tier 1 team is high, leading to negative outcomes and missed service level targets.
Advantage #3: Access to advanced operations tools and platform
Finding the right outsourced NOC support provider with the capabilities your environment needs—that can thoughtfully integrate tools to improve efficiencies—is just as much an opportunity as it is a challenge.
An efficient NOC can receive and process alarm or event information from multiple sources and present it in a single, consolidated view for staff to act on. This consolidated view is commonly referred to as a "single pane of glass." Many NOCs also need to bring voice, email, text, customer portals, knowledge bases, documentation, and workflow management tools into the NOC, each potentially with its own platform.
Without integrating

these tools and platforms

, NOC personnel are faced with tracking and managing multiple screens for event information; manually collecting information from multiple sources for documentation, notification, and escalation; and then attempting to manage workflow toward service restoration.
This makes it nearly impossible to monitor and report on SLA metrics, let alone optimize performance. The outcome here is predictable and all too common: operational inefficiencies, missed SLAs, and undue stress on staff.
Developing a truly integrated NOC platform internally can be a massive technical and operational challenge. Homegrown NOCs are at a significant disadvantage here because there's no playbook to follow, and the requisite skill sets are extremely hard to find.
By contrast, the right service provider can understand your challenges and overcome them with the most effective integrations possible.
Here at INOC, we work seamlessly with all your technical and procedural support systems to fill gaps, enhance current capabilities, and offer entirely new ones.
Whether you need simple support augmentation to escalate activities to your engineers or a NOC team that can take a more active role in working and resolving issues, we integrate with virtually any tool, process, or system to help you meet the growing service demands among end-users and customers.
Advantage #4: Easier, faster, and more cost-effective scalability
Rather than training each in-house engineer to become competent and efficient in what might be many technologies, outsourcing to the right partner gives you access to a pool of engineers that often already have experience with your technology.
Plus, a mature, structured NOC also offers improved efficiency, as the majority of issues can usually be handled by front-line engineers, rather than wasting the precious time of your advanced engineers with simple problems—and burning them out as a result.
Due to its size and staff, an outsourced NOC support provider can rapidly respond to your changing needs to accommodate growth and support new business initiatives, without the management headaches that would accompany such changes in-house, with the additional benefit of making the NOC an ongoing OPEX expense, which conserves budget and lowers upfront cost impositions.
Read our other post to see how a shared outsourced staffing model offers a means of support that cost-effectively scales as your business grows: Shared vs. Dedicated NOC Support: A Quick-Guide.
The Potential Disadvantages of Outsourcing Your NOC
Now let's explore some of the potential downsides of outsourcing. It's important to note that just like the advantages, these too are more a function of whom you outsource to rather than the decision to outsource itself.
Disadvantage #1: It can be difficult to find the right NOC partner/service provider
Many service providers offer rigidly-packaged services. If your company doesn't perfectly fit into one or another, you're forced to either overpay to ensure you get the services you need or underpay and have to settle for less than what you need.
We realize NOC support isn't one-size-fits-all, which is why we offer customized service solutions that are flexible enough to address the specific needs of your situation. These solutions are also personalized with named, dedicated onboarding staff, client experience CSMs to engage you, and personal named experiences where you can build relationships throughout the lifecycle.
The service provider you partner with must have the capability, experience, and expertise to deliver on your needs. In addition to resolving your needs at the moment, make sure they can support your strategic roadmap for the coming years.
Here are a few questions for assessing prospective NOC service providers. Use these to answer the key question: Do they have what it takes to deliver outstanding support?
Do they provide full-service, 24x7 support?
Are NOC services this provider's primary business, or is it supplementary to something else?
Do they offer both shared and dedicated support models, enabling economies of scale or the dedicated resources we need?
Will their NOC platform integrate with our existing tools and infrastructure without forcing changes upon us or creating risk?
Can they demonstrate success in supporting organizations like ours?
Do they have an adequately comprehensive business continuity plan and redundancy in place?
Do they offer a robust client portal with convenient visibility into the state of our support?
Do they offer runbook development services and manage runbooks as a component of service?
Are alerts and escalations handled in a way that doesn't disrupt our current operations?
Does their speed and effectiveness in detecting, diagnosing, and remediating issues reflect our needs?
Will they open and manage vendor and carrier tickets?
How fast can they establish service?
Is the outsourced NOC price fixed, tiered, or will it vary with usage?

Disadvantage #2: The risk of poor SLAs and reporting
One challenge inherent in outsourcing anything is the risk of signing on with the wrong service provider. Outsourcing the NOC can be a particularly high-stakes (and high-reward) decision and mean the difference between meeting or missing your SLAs.
Providers may point to positive SLOs like time to respond and time to repair and claim that they are hitting it out of the park, yet customers will tell them they're not solving their issues.
One hallmark of a high-quality NOC service provider is a dedication to continual service improvement. Are they capturing and acting on their own metrics to improve their operation, or do they remain static?
Our Service Level Management (SLM) model combines critical KPI reporting with a broader, often more meaningful set of objectives that bring additional data and context into view.
We break down the SLA into multiple SLOs or specific metrics such as responsiveness to events, calls, and emails that contain various measurable metrics for the NOC services provided. INOC provides a monthly report with KPIs (key performance indicators) that help the client determine whether the NOC support meets their goals.
We unpack the details and stay on top of changes within your organization to ensure your service levels directly reflect the support you receive, utilizing metrics like the following:
Time to Notify (for alarms and various priorities)
Time to Notify (for email)
Mean Time to Impact Assessment (TTIA)
Mean Time to Notify Third-Party
Time to Acknowledge (TTA)
Ticket Update Frequency
Mean Time to Restore (MTTR)
Read more about SLAs, SLOs, SLIs, and SLM: NOC Service Level Agreements: A Guide to Service Level Management

Disadvantage #3: The risk of losing control and visibility into your support operation
You can have all the metrics in the world, but if you don't understand the messages they're telling you, then you ultimately are not going to improve as much as you can.
Poor providers may tell you they are working to improve the quality of their service, yet time will pass and you will see no difference.
A good service provider, on the other hand, will show you an improvement plan and work with you. The provider may diagnose the source of the problem (e.g. runbooks, scope limitations), supply a list of major issues, and identify who originated them. They may even have a team that investigates support issues and how they impact the client.
Such an improvement plan might contain:
Quantitative data about where support is falling short and why;
What they intend to do to resolve each issue;
KPIs that will demonstrate when they have successfully met your standards.
Here at INOC, we mitigate the risk of losing control and visibility by providing improvement plans similar to what is described above, as well as offering:
The client a full view of the NOC so they can see what is going on;
Operational metrics so the client can monitor what the provider is doing 24/7;
Quality assurance and business reviews to give an update on how the support has improved.
Another key factor is the level of participation you are willing to cede in the running of the NOC. It all comes down to the deployment models your outsourced NOC service provider can provide.
The best providers are flexible and offer a range of responsibility sharing. Many service provider models will allow you to co-manage the NOC so that you have some level of visibility and control over their activities.
Disadvantage #4: Security
Security is one understandable concern of outsourcing: There's a risk that your data will now be housed outside systems your organization controls which can create a risk to the business and its customers.
Any NOC provider should be able to demonstrate a comprehensive security program and clearly describe the mechanisms and investments it put in place to protect itself and its clients.
At INOC, we take security very seriously. We've achieved, and continue to maintain, ISO 27001:2013 certification for our Information Security Management System (ISMS). Our comprehensive security team covers staff roles in compliance, technical, and SOC operations to maintain our ISMS.

Summary, Final Thoughts, and Next Steps
While at first glance outsourcing may seem to compromise control and security for convenience, the right service provider can offer custom NOC solutions that allow you to retain visibility over outsourced operations, keep your data secure, and work with you to overcome SLA reporting challenges while providing premium service and support informed by decades of experience.
The Main Takeaway 👉 Given the costs, complexity, access to tools, and expertise required to properly monitor, manage, review, and optimize multi-technology, multi-vendor systems, handing some or all support over to a service provider solely devoted to NOC support offers many organizations the easiest, most cost-effective path to the highest quality support for themselves and/or their customers.
Want to learn more about our approach to outsourced NOC support? Contact us to see how we can help you improve your IT service strategy and NOC support, schedule a free NOC consultation with our Solutions Engineers, or download our free white paper below.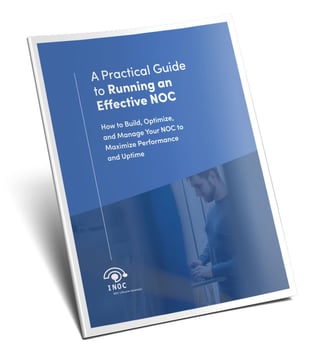 FREE WHITE PAPER
A Practical Guide to Running an Effective NOC
Download our free white paper and learn how to build, optimize, and manage your NOC to maximize performance and uptime.
SUBSCRIBE TO RECEIVE NEW POSTS IN YOUR INBOX
Let's talk NOC
Book a free NOC consultation and explore support possibilities with a Solutions Engineer.